Dave Jameson
Concord Cars
No Excuses... Just Keep Going...
Concord Cars' Dave Jamesen may have initially learned how to win by pedaling a bike the right way, but today he's winning by peddling used cars… the right way!
Dave Jamesen raced into his four-wheel career on two wheels. Today, he's still riding strong, and his race is far from over. The continuity of his career history is on display at his four Concord Cars, Inc. dealerships – two in Elkhart and one in both Goshen and South Bend – where, on an average day, 500 used cars await their new owners.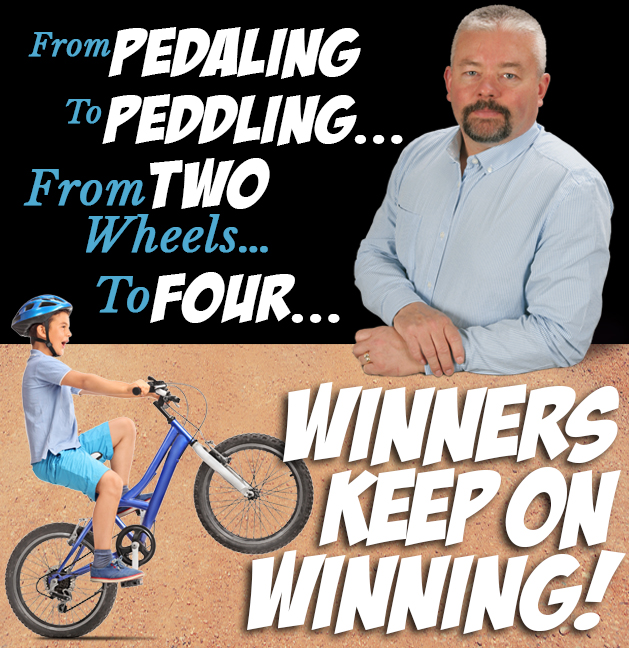 At each dealership, Jamesen displays part of his collection of about 30 rare bicycles – Schwinn Krates and Swings – but the shiny red, yellow and green bikes are more than mere conversation pieces. They are a nod to his beginnings in a wildly successful career as a car dealer – a career he didn't initially seek, that he never saw coming, but which sneaked up on him through a childhood fascination with BMX bicycle racing. His love affair with racing bicycles and in-born business abilities laid a solid foundation for the future and ultimately led him to be chosen as Quality Dealer of the Year by the Indiana Independent Automobile Dealers Association in 2013.
While racing successfully, he learned to work on his own bicycles and, by the age of 12, had developed a full-time business, buying rusting, idle bikes he would spot leaning up against sheds or against houses, with broken chains, missing pedals or flat tires, fixing them up and re-selling them at a profit. When it comes to business and the buying and selling of moving vehicles, Jamesen, whether he knew it back then or not, was a natural.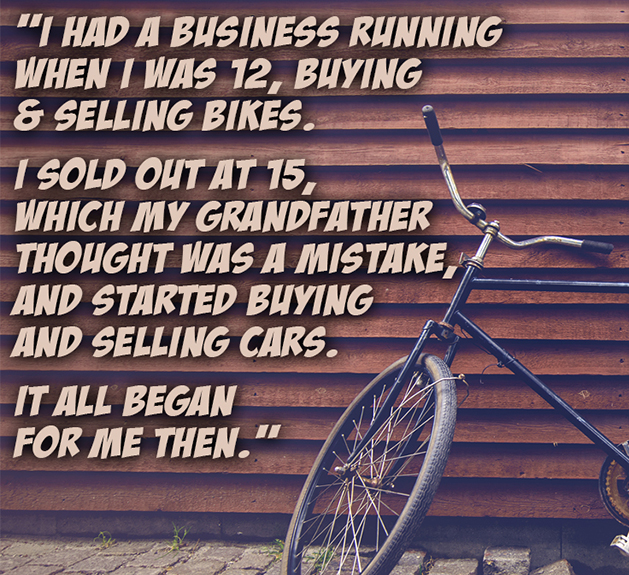 "I had a business running when I was 12, buying and selling bikes," he said. "I sold out at l5, which my grandfather thought was a mistake, and started buying and selling cars. It all began for me then." Using the profits from selling his bike business, Jamesen began dealing in cars, even though he still was too young to have a driver's license. "I had a red Camaro sitting out front of my dad's house. One Sunday, a family came by with their l6-year-old son and said they just missed buying one the day before -- it got sold out from under them. They were buying their kid his first car. They looked at the car, gave me a deposit and came back that afternoon with $3,500 in cash.
"We had to notarize the car title and they assumed I could drive. They knew the dispatcher at the Nappanee Police Department was a notary, and said, 'Can you follow us down there? "Even though I didn't have a license, I drove to the Nappanee Police Department and signed the title in front of this dispatcher, who acted like she knew me. She never asked for my driver's license, although normally a notary does ask for an ID. I signed the title and drove back home. I was l5 and believe me, I was more than just a bit scared. Before I had a license, I used to ride to the local Ford and Chevy stores on my moped and buy cars. I wasn't l8 yet so, even if I was paying cash, I couldn't sign for them. I was having my brother, my sister, my dad's housekeeper, anybody I could get to sign for them. I built a trailer for my moped and used it to haul bikes."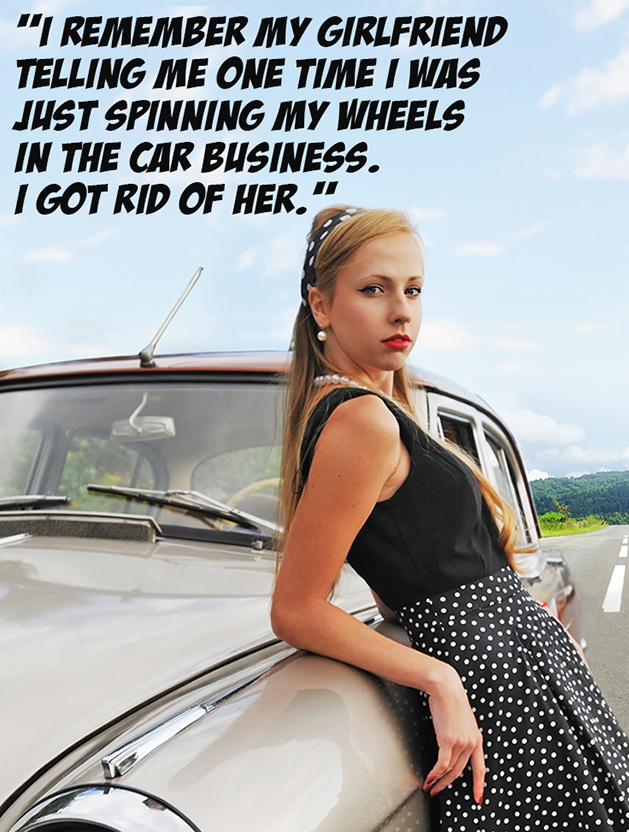 "I remember my girlfriend telling me one time I was just spinning my wheels in the car business. I got rid of her."
Dave began dealing in mopeds, scooters and snowmobiles and once even swapped a moped for a VCR, which turned out to be a profitable deal. "It sounds crazy, but this was when VCRs were first coming out. It was an $800 VCR, top of the line, and the guy had gotten a DUI. He needed a moped. He didn't need a VCR anymore. I sold the VCR and it was worth more than the moped."
When Dave's brother approached the then-owner of Concord Cars to let him sell storage buildings from the man's lot, he casually mentioned that his brother sold cars, and the man said, "Have him give me a call. That was l984-l985," Dave said. "I went to work for him for a summer, washing cars, talking to people while they went to the auctions, cleaning the office, taking out the trash, selling cars, doing whatever needed to be done.
"After that summer, I started wholesaling cars when I was back in school. In a year or two, the owner told me I could keep selling on consignment or start paying half the expenses, and I basically became a partner while I was still in high school." That was 30 years ago, and Dave will celebrate his three-decade anniversary in April.
The partnership amused local dealers who, when the 16-year-old began showing up at auto auctions with his 50-ish mentor, assumed that Dave's new partner, Jim Brock, was his father. That partnership in the small gravel car lot would last for 13 years (1986 to 1999).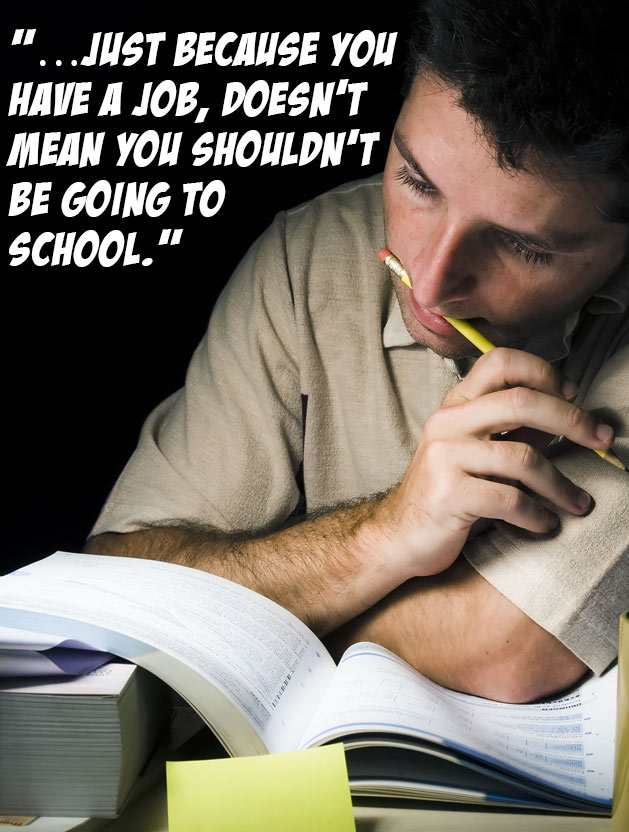 Jamesen began skipping school to attend car auctions. When he was offered a chance by his high school principal to come in at "zero hour" before school began and leave in the afternoons to buy and sell cars, he jumped at it. Later, the principal allowed him to complete the remaining civics class he needed for graduation, in the evening, freeing up more time for auto dealing. "Basically, I graduated mid-term. Some of my classmates weren't too happy -- 'just because you have a job doesn't mean you shouldn't be going to school' …but I've sold cars to my principal ever since." However, Brock's family members began working at the dealership, which caused conflicts, and Jamesen was ambitious to expand, while Brock was thinking of retirement. He bought Brock out. "It was good, but it was just time to split and go our own ways, so we did," Jamesen said.
He began expanding, turning the gravel parking area into a paved lot, installing lights, constructing a new building and adding his second location in South Bend, but had no thoughts of further expansion until road crews began tearing up the highway in front of his dealership.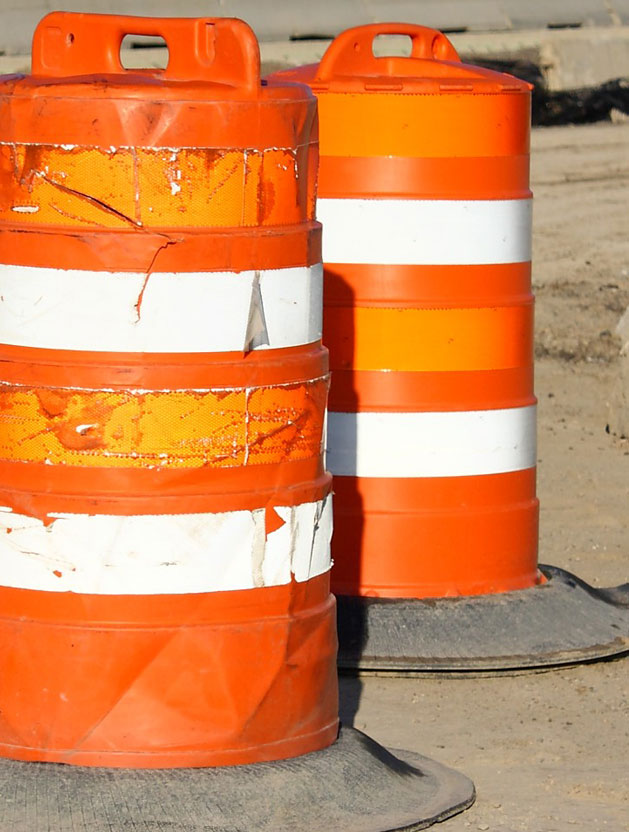 "It was a two-year project and changed the four-lane highway into a two-lane gravel road, taking some of our frontage. I really wasn't looking to add a third store but I was kind of scared that I was going to lose my business. I couldn't process cars and couldn't get cars delivered. I was in a tough spot and didn't know how bad it was going to be. "The last day they worked in November, they tore out my driveway, literally tore up all the concrete, and said, 'We'll see you in the spring. At one point, orange barrels blew into our cars during a storm and caused a lot of damage, but the highway department wouldn't take responsibility for that either."
Learning of a Ford dealership available in Goshen, Jamesen bought it, just in time for the economic crash in 2008. "Elkhart was the epicenter of that economic meltdown, but again we survived. It was tough and our business definitely was affected." Not tough enough to stop Jamesen, however. In 2012, he opened his fourth dealership in Elkhart, and thrived. "We're in the process now of doubling the size of that location. I bought a property next door with a couple of houses and a couple of buildings and tore all of those down. We're going to extend the parking lot and double the inventory over there.
"We're on a growth spurt. In Goshen last year, we doubled the parking lot there. I had three acres and was only using about half of them, so we put in new lighting and went from 75 to 150 cars at that location. "Business is good -- we just keep growing. I never really thought about the future and never planned on having a second and third and fourth dealership. People ask me all the time, 'Where are you going next?' I just say, 'I don't know.'"
The same year that Jamesen and Brock went their separate ways, 1999, Jamesen married his wife Misty, "So I lost a partner and gained a partner, all at the same time," he said. The pair are still happily married and parents of two children, Zarin and Macy, but they have had their share of tragedy. Their first child, a boy, was stillborn, and Jamesen said, "There's nothing worse than that. Most people have no idea what a really bad day is until they lose a child." An inherited blood clotting condition, factor V Leiden, was to blame.
"Throughout her whole pregnancy, my wife was the picture of health. A $100 test would have detected it, but no one ever gets the test because of the rarity of the condition." As tough as that time was for Jameson he was able to pick himself back up and continue on. To that point he garnered recognition for his company through great leadership. In fact, four out of the last five years, Concord Cars has been chosen as the best pre-owned car dealership in Elkhart – "and we were runner-up in the year that we didn't win," Jamesen proudly noted.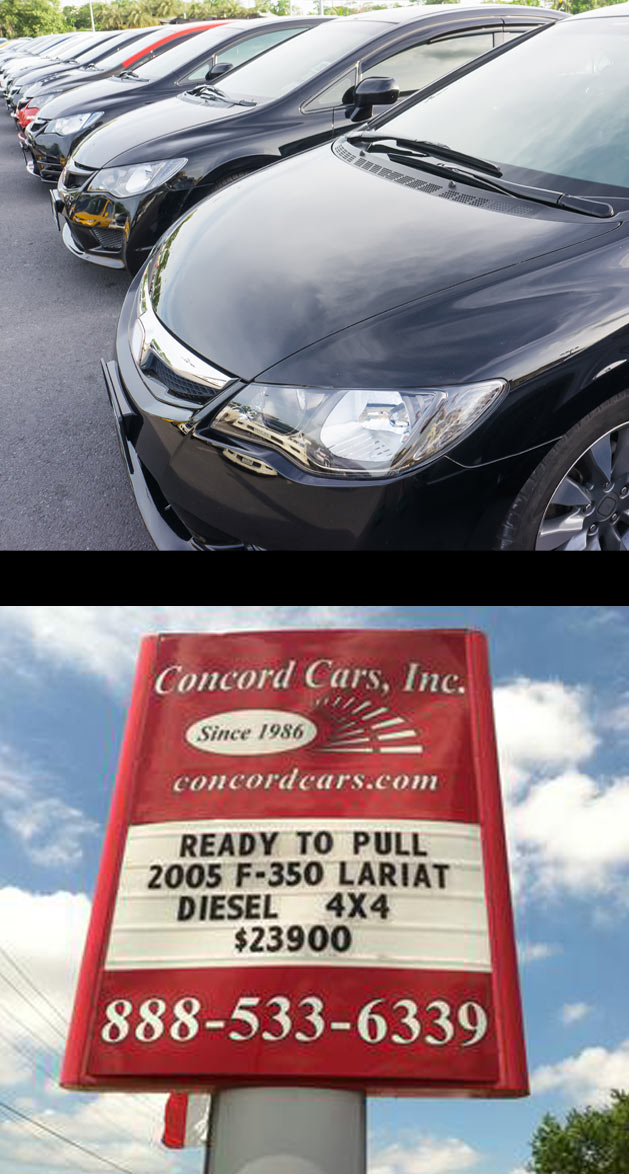 The companies biggest accolade came when the firm was awarded the 2013 Joe Krier Quality Dealer of the Year prize by the Indiana Independent Automobile Dealers Association and represented Indiana for the top dealer of the year award at the National Independent Automobile Dealers Association Convention in Las Vegas in 2014, placing in the top 18 dealerships for the National Quality Dealer Award.
In announcing the state award, the IIADA wrote, "The dealership must be consumer oriented and the dealer must have a record of good business decisions based on honesty and integrity. Also, the dealership must represent themselves as a civic leader within the community. Concord Cars represents all of these attributes."
"I think we have an outstanding reputation and the award helped solidify that reputation," Jamesen said.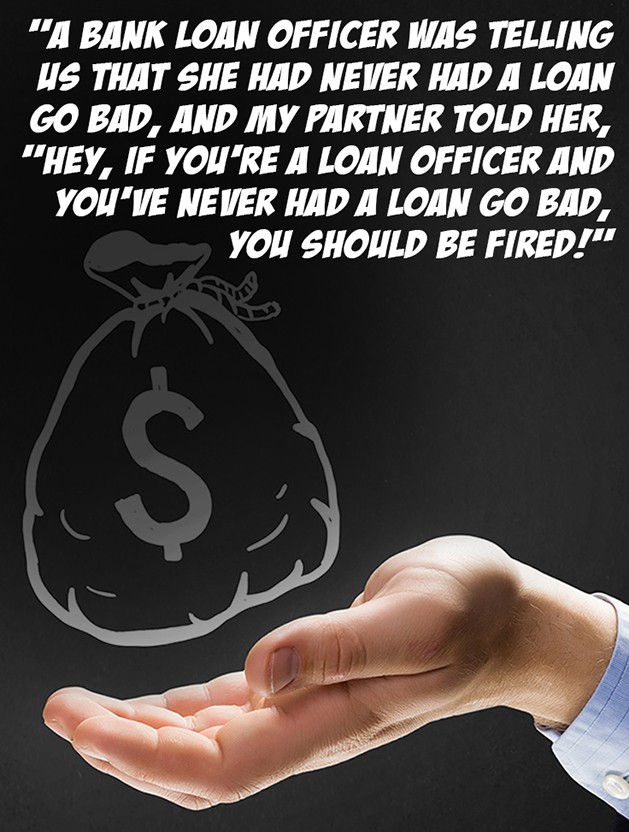 "We're not afraid to spend the money to get the cars ready for sale. We have them checked out and inspected. If they need tires, we put tires on them. If they need brakes, we put brakes on them. I do the majority of the buying and I'm pretty picky about what I buy. If something comes in that's less than what it should be, that's rougher than it should be, I don't want it. We send it back. It's all about doing the right thing and doing what's right for the customer. A car is a machine. Things happen, they break down. Nobody's got a crystal ball to tell when that's going to happen. We try to take care of the customer, do what's right and everything else just kind of takes care of itself."
Jamesen has served on the Elkhart Chamber of Commerce's ethics panel and supports Bashor Children's Home, Premier Arts and the Boys and Girls Clubs.
Today, Jamesen's dealerships employ 26 workers, move about 2,500 vehicles per year and have carved out a specialty niche in the Michiana market. He estimates that he has sold well over 20,000 cars in his career. "We're definitely one of the top dealers in the area," Jamesen said, "but we don't do a lot of the sporty fancy stuff, like Corvettes. We do more middle class family cars."
"Not all deals are winners. Used car dealers", Jamesen said, "are 'professional gamblers'. We're betting we're going to sell this car for more than we paid for it, and sometimes we do, sometimes we don't. Most of the time we win but occasionally we lose, If I'm buying and selling cars, I don't need to go to the casinos, and I don't."
However, that doesn't stop him from buying. "If you make money on everything you buy, you're probably not a very aggressive buyer. It's like investments. If you always make money on your investments, you're probably not investing the way you should.
"A bank loan officer was telling us that she had never had a loan go bad, and my partner told her, " Hey, if you're a loan officer and you've never had a loan go bad, you should be fired. If you're doing it right, you're going to make a mistake now and then. If you're so conservative that you've never made a mistake, you're probably not very successful."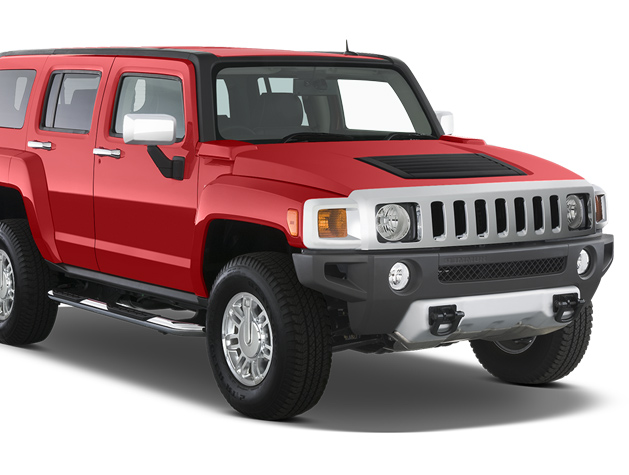 His most expensive car deal was for a Hummer, which sold for $50,000, but that was a rarity in his lower-priced, family-oriented business. When he's not selling cars, Jamesen likes to travel. He has taken trips to Disney World and Disneyland and sailed off on several cruises. "When my wife and I were kids, we never got to go anywhere or see anything. Now we're trying to show our kids the world."
The bikes tell the story of Jamesen's beginnings. Schwinn Krates, made only between 1968 and 1973 (when the Consumer Products Safety Commission decided there were too many injuries caused by the bikes' rigid, upright five-speed gear shift and banned them), are extremely rare and pricey, with superior models selling for thousands of dollars. The sporty, gleaming bikes, with their "ape hanger" handlebars, small front wheels and large back wheels, were known as the Orange Krate, the Lemon Peeler and the Apple Krate, and appropriately colored. Swing bikes can be steered from both the front and rear wheels and are capable of traveling sideways.
"Back in the 80s, BMX racing was a craze and everyone was doing it. Today, I keep them around as conversation pieces. They remind me of where I came from and where it all started," Jamesen said.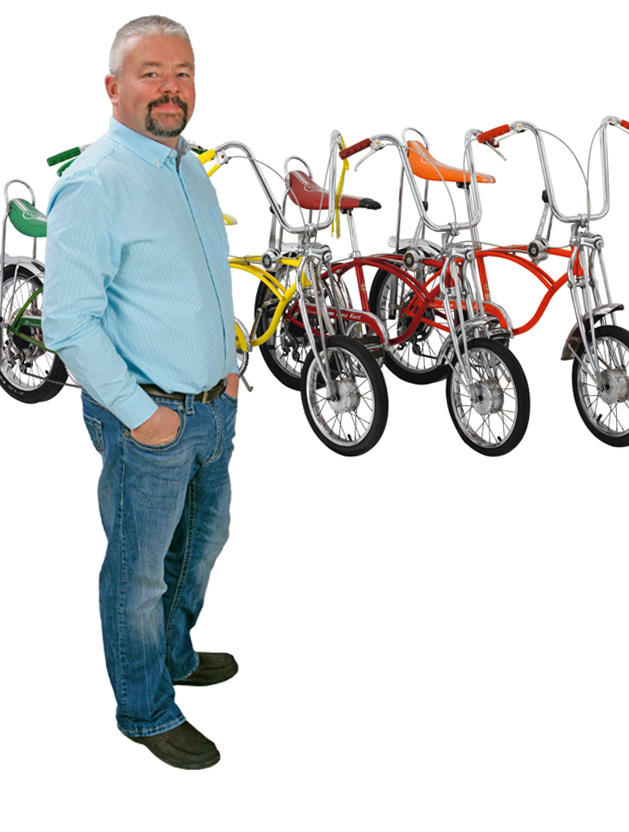 At his home, in a cabinet, he has a small collection of model Schwinn Krates, because he has no room for his full-size collection. "A Schwinn Krate was what I wanted as a kid but I had a Sears Free Spirit model because my parents wouldn't spring for the Schwinn."
While he has no immediate plans to open a fifth dealership, his next project, already underway, is a reconditioning facility located on a two-acre lot near his main store, where cars can be detailed and necessary mechanical repairs made before they are sold. "I never thought I was going to be a used car guy when I grew up. I never knew what I was going to do. It just kind of happened and progressed, and became what it is. I'm not really qualified to do too much of anything else. I didn't take any college classes and never really had a job. I never punched a time clock, but I've been pretty fortunate."
Still only 46, with a lot of mileage left in his career, Jamesen said, "I'm a happy man, but probably not as happy as I should be. That's the nature of people with Type A personalities like me. You're never quite happy enough and you always strive for more.
"I'm not finished yet."