KENN CMELO


The Auto Store
Griffith, Indiana
A Story of Surviving the Odds
BY RICK SINGLETON
Kenn Cmelo opened a used auto dealership in Griffith, Indiana (just outside of Chicago) in 2015. Prior to that Kenn spent the majority of his time focusing on another business he owns, KLC Enterprises, Inc. KLC purchases used vehicles for other auto dealers throughout Indiana, Illinois, Michigan and Iowa. That business grew as the dealers started second guessing the decisions that their used car managers were making when it came time for auction.Kenn actually started in the auto business at Sunrise Chevrolet in Las Cruses, New Mexico way back in 1971 after his tours in Vietnam (1968-1970). "They threw me out the window and onto the sales floor" joked Cmelo about his experience. "They said 'go get it' and I did."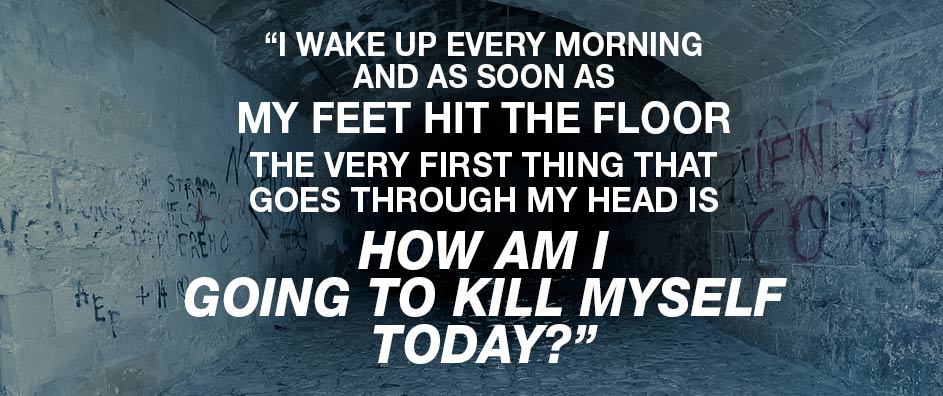 Civilian life was a huge and difficult transition for Cmelo, as it is for many vets returning home from the battles of wars. "I became so leery of people in general. People spit on you, called you a baby killer. It was nearly impossible to cope with but you have to learn to live with it." Cmelo states. "I've really never gotten over it so to speak. In fact, I wake up every single morning, and as soon as my feet hit the floor, the very first thing that goes through my head is – how am I going to kill myself today."
I asked Kenn, 'What is your answer, how did you intend to do it today… and why didn't you'. Without a surprised look on his stone cold face he answered, "My daughter – she's the only reason I don't". Tears began to swell in Kenn's eyes, in harmony with his words as if they were meant to be one in the same. Kenn's daughter Gina is certainly the sun that Kenn's life revolves around. "My daughter is my life, Cmelo says with heartfelt warmth. "She started coming to work with me when she was 8 year old. She was so eager to learn every single facet of the business and what her dad did. She absorbed it from the floor to the ceiling… and she got good, really, really good. In fact at this point she could outsell almost every used car guy I've ever met. She just has a knack for the business and she is amazing at it".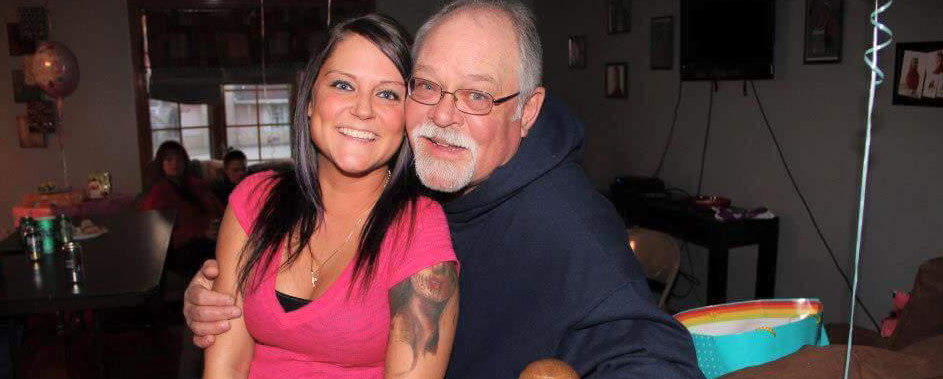 According to Cmelo, Gina is a huge animal lover and extremely (maybe even excessively) generous. "Gina is smart, beautiful, tender, loving, caring, giving… she's my life."
Well even if Kenn is biased you can't argue with some of the facts like, at a very young age, Shane Ratcliff, considered by many to be the best auctioneer on the planet, took a liking to Gina and her abilities. He actually paid out of his own pocket for her to attend Clear Lake Iowa Auction School. He obviously saw something in Gina and recognized her potential. Fortunately, Gina's high school allowed her to take time off to attend the auction program during her senior year. To this day both her and her father say they are very thankful to Ratcliff for his generosity and the fact that he recognized and appreciated her.
Today Cmelo has a handsome lot of cars that typically range from $6,000 to $20,000. You will usually find about 30 cars on his lot. He also specializes in vehicles for the credit challenged and says he feels good about helping them into a vehicle. "It makes me feel great to help someone get a vehicle when they might have believed that they couldn't do it because of their credit. Anyone can end up with credit issues but that doesn't change who they are."
Cmelo claims to purchase the majority of his vehicle inventory from Greater Mishawaka Auto Auction but he also buys some from Dyer Auto Auction. "I do that mostly because my wife is the business manager there" Kenn says laughingly. He continued to boast about GMAA and owner Karen Smith-Mancewicz. "I know this story is about me, but she is one of the reasons I've been so successful. She cares about her dealers. Plus I really believe I get my best deals here. And of course the GMAA Dealer Appreciation Party she throws every year doesn't hurt either. All kidding aside, it's simply a great place to do business."
Kenn says his people are also key to driving his success. "Michael, our mechanic, is exceptional at what he does and making sure our inventory is in tip-top shape. Glen, our financial guy, always figures out a way to make deals happen for the finance people. I kind of orchestrate the show. We all work very well together and that helps our success."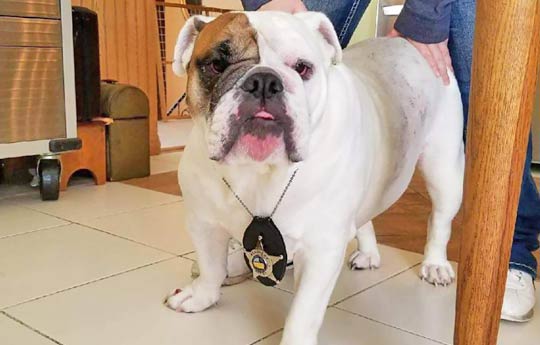 KENN'S BULLDOG, SAL, IS ALSO AN IMPORTANT MEMBER OF THE TEAM.
BESIDES BEING THE RESIDENT MORALE LIFTER, AND TASTE TESTER, HE IS A "LICENSED" REPO OFFICER
(ALTHOUGH IT'S USUALLY SOMETHING EDIBLE THAT IS "REPO'D").
AT THIS POINT YOU MIGHT ASK. "WHAT ABOUT CMELO'S EMOTION OF WANTING TO END HIS LIFE?"
Kenn suffers from an illness referred to as PTSD (posttraumatic stress disorder) which is a mental health illness that some individuals develop after experiencing a life-threatening event, like combat, a natural disaster, a car accident, or sexual assault. It can be a debilitating illness that has reoccurring bad or emotionally upsetting memories, keeps many people on edge or uneasy, can result in countless sleepless nights and even create deep suicidal tendencies. According to Kenn having PTSD doesn't mean you are necessarily broken, it means that you were put to the test and you didn't fall completely apart.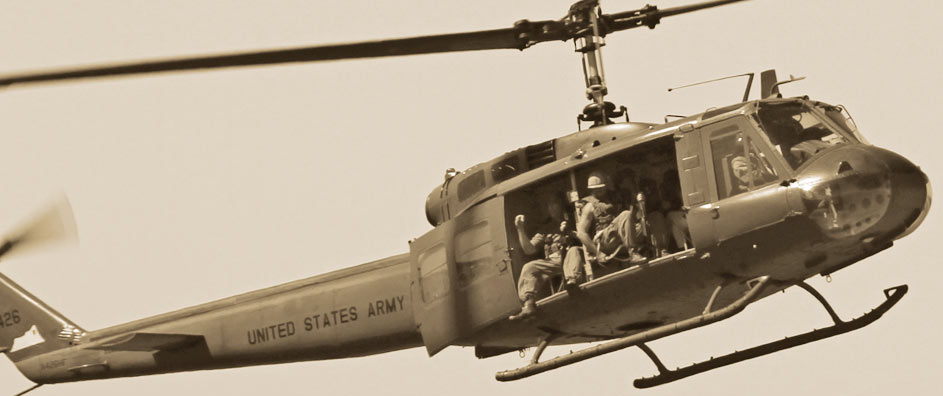 Kenn's PTSD started after his Vietnam tour. He did his first tour as a Door Gunner on a helicopter which basically means his job was to gun down people from the open door of a helicopter. One of the problems (besides the obvious fact that most people don't enjoy killing other people) was that the enemy shoots back… and typically tries to take out the Door Gunner first.
ACCORDING TO CMELO,
THE LIFE EXPECTANCY
OF THAT PARTICULAR JOB
IS ABOUT 90 DAYS.
HOWEVER, AFTER A LITTLE RESEARCH,
WE FOUND THAT
A DOOR GUNNER'S
LIFE EXPECTANCY
IS CONSIDERABLY
SHORTER THAN THAT.
Maybe that's why Cmelo was so relieved as he neared the end of his tour of duty. However, what happened next was unexpected and earth-shattering for the young Cmelo. He reflected on the moment. "I was just about through my tour. I thought to myself, just a few more days and I will have made it out alive. That's when I received my 'letter'. I read it and I nearly went into shock. Basically it stated in a roundabout manner, hey, thanks for your service. You've done such a good job we are volunteering you for another tour. I was frozen in shock in that moment."
Fortunately Kenn Cmelo made it through both his first and second tours. As he says, he is very blessed. Kenn says he is considered to be 90% disabled. "Whenever I go for 100% I get guys in black suits visiting and me reminding me that I don't exist because of the type of job I had to do over there. Of course, I'm sure that I'm not the only guy that served in an unusual capacity that doesn't exist according to our government. Today if you ask Kenn about his experience in Nam he has little to say. "That was yesterday. If I'm going to live, I need to live for today and put the other behind me."
"WHENEVER I GO FOR 100% (DISABILITY) I GET GUYS IN BLACK SUITS VISITING ME
AND REMINDING ME THAT I DON'T EXIST."
One bit of silver-lining is that Cmelo was nominated as 'Veteran of the Year' by Chitown Large Cars. The company asked families of vets from all over the country to write letters explaining why 'their veteran' deserved to be voted the veteran most deserving of the honor. Guess who moninated Kenn, yep, his daughter Gina. And a few weeks later Kenn won the award and was honored at a banquet. In addition to the award and recognition for the honor, Kenn was granted a check in the amount of $11,500. Immediately upon being handed the check he donated it, in its entirety to the Pets for Vets organization.
..................
I can say that interviewing Cmelo was interesting, educational and an honor for the time that he invested. He is certainly a soft, sincere and gracious man. Thank you Kenn, for your honesty, your openness… and thank you for sharing your story with all of us.
More than anything else, on behalf of Greater Mishawaka Auto Auction and the staff here at ZZZippy, I want to thank you for your sacrifice and for your service to our country.