Zane Torrance
Zane's Auto Sales
Zane Torrance, owner of Zane's Auto Sales in Osceola, Indiana, has been in the used car business for over 50 years and his dedication, passion and love for the industry definitely has done good for him! With family by his side, he continues to work at his shop, daily, selling cars & maintaining that same relationship with his customers from 5 decades ago, even at 82 years old!
"This business has treated me really good" Zane says of the used car industry and particullarly his small business. "I'm selling to the grandchildren of people I've sold to years and years ago." His interest in auto sales started in 1970 when two friends, Kenny and Warren, had a dealership of their own. With a spark of imagination and a thrift buy of a grocery store, Zane quickly turned the parking lot into a spot for his new found passion, automobile sales. The business grew quickly, selling one…then two… then 30 cars a month! Eventually, the landlord of the grocery store threw him a curve ball. "They didn't want a car lot at the market anymore so I moved to our one and only location and we've been here ever since".
Business was booming as was the enthusiasm for Zane and his wife, Shirley, so they decided to buy a small restaurant right down the road from the auto shop, "Zane and Shirley's Coffee Pot". "I think that the coffee kept us going, but I have to remember this was some-odd decades ago, so maybe it was just our youth! Everything was wonderful! We had all that we needed. Our family has always been close, we were in our favorite city in the world, Osceola, and we were set!"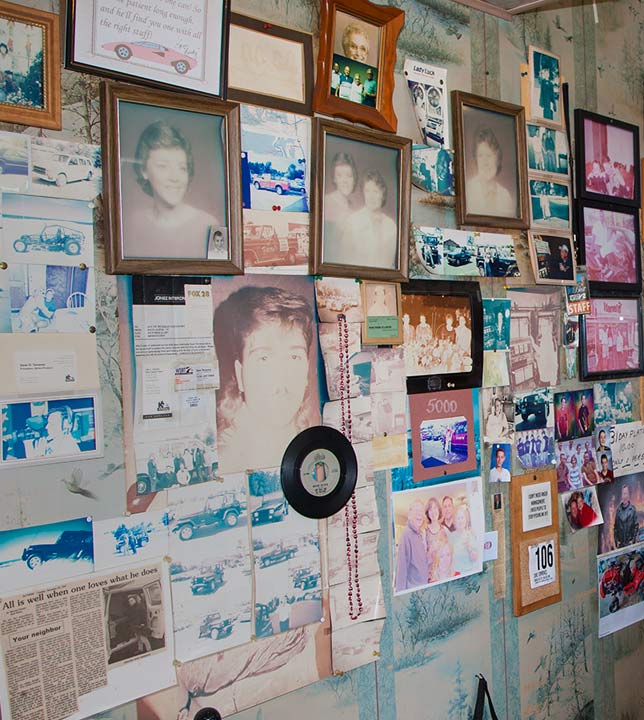 With over 50 years of dedication, you knowthey are doing alot of things right! Shown above is his history wall.
Eventually, however, they decided to focus all of their attentions directly to Zane's Auto Sales, selling to automobile customers almost daily! The building to the Coffee Pot was torn down but their spirits were not. "I ran the coffee shop for a long time, was on the road driving for Michiana Wholesale for 18 years, been in and out of the food market when we owned the grocery store…I always got tired of staying at the same one job for so long, except for the auto-sales business." There was always something to do or a new test on how to grow horizontally.
Many years have passed, many lessons have been learned and many hours have been spent working towards greatness since the start of this infamous and family-legendary company. However, there is no such thing as all work and no play! "Shirley and I love to gamble. We used to take extended trips out to Las Vegas to play the lights for days upon nights. One of my favorite memories in my lifetime was at the Golden Nugget back in 1990. I was sitting in the high dollar room at 3am, playing the 5 dollar machine; All of the sudden, all of these lights started buzzing and people all around us were staring very steadily. It was only after the supervisor came up and asked me if I knew what I had just done. It was obvious that I hadn't, then suddenly I realized I had just won 22,000 dollars in just a quick couple of minutes!"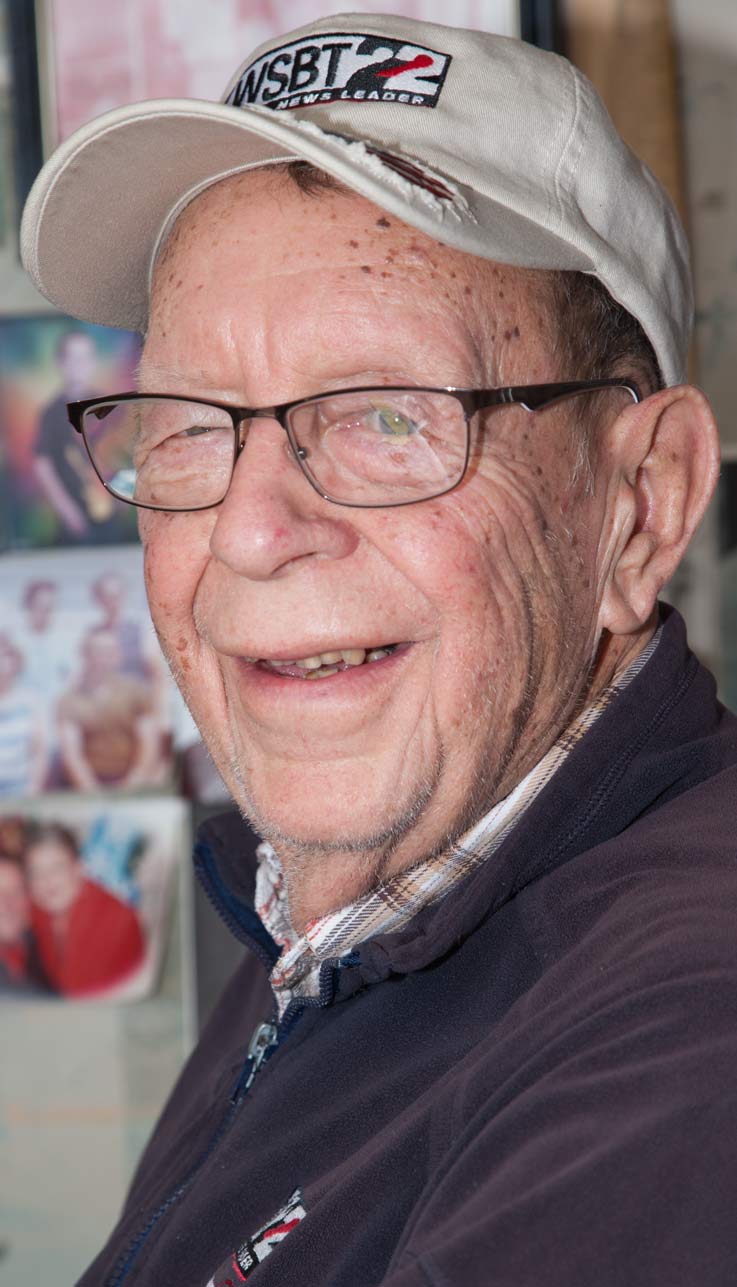 His belief on "do the right thing and the right things will come back to you" have not only helped him win $22,000 in one sitting, but have, ultimately, accompanied the building to the structure of all of his business morals as a whole. He structured a company from the dirt up on three simple thoughts. One, treat people well and they will do the same for you. Two, if it is something that has a problem, it is sold after being fixed or it is not sold at all. And three, the combination "good" and "nice" do not work well together, at all.
Zane believes that you get what you pay for, much like treating people the way you want them to treat you. He recalls a time where a man pulled up in the back of the shop one night, after close. "It was my boy, my old mechanic, who has since then passed, and myself. This man rolls his way up and yells 'find me something good and cheap'. I slammed the garage door and waited for him to drive off." Zane has built his reputation on bringing in business and treating his customers with the upmost honest truth and something "good" doesn't come in the form of cheap. This instance was one out of a very small number of times that he has ever turned a customer away. He structured a company from the dirt up with morals as bright as day, with honesty that built the reputation for his business.
Integrity is flowing through the air the second you drive onto the Zane's Auto Sales lot and there isn't a person out there that cannot sense it! It has been many years since Zane started in the auto sales business but he is still moving forward, now with some help from one of his sons. Being in the office keeps him busy, giving him something to do, keeping his mind active and his face smiling. Nowadays, he focuses very heavily on his family, spending every Monday night with their children and now even their children's children. Serving dinner for, on average, 12 people, the Torrance's wouldn't have it any other way.
"It's a lot of work, going into the office and then coming home on Mondays to cook dinner and clean up for the family. My wife can't see well and I can't hear well so we trade off, I'm her eyes and she's my ears, we make it work…for our family and for ourselves." The most important things under his own sun are to protect the ones he loves the very most. Zane's plans for the future are relaxing and inviting; to "just stay living". He continues to stay living as long as he desires, doing anything that he decides that he wants to do. With an office full of memories hanging on the walls and sitting on shelves in every corner, he tells stories of times he recalls and loves."I like to sit at my desk, awaiting the next customer, and peak at the photographs that lie behind me. They paint the walls themselves, with some of the best of times."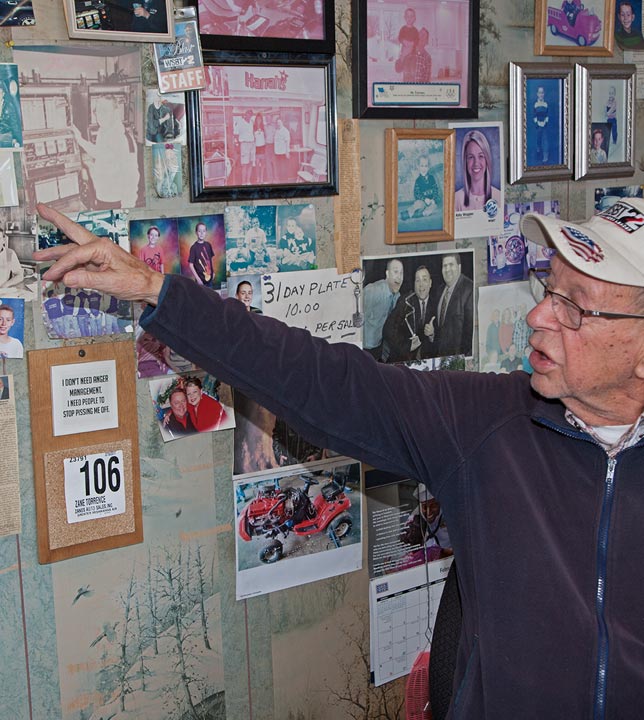 Children and parents, grandchildren and grandparents, aunts, uncles, sisters and brothers, they all line the panels as if there were a family tree, looking over his office desk. Zane Torrance has a very steady head on the true meaning of life. Believing, constantly, that one can continue to grow, as long as you have the trust and guidance of your most loved ones, you can do anything and everything even when you're falling off of the tips of your toes. His scrupulous beliefs on family and friendship have, ultimately, been the inevitable deciding factor on how Zane's Auto Sales would turn out; strong, genuine and a never-ending success story.
February 25, 2021​​​​​​​ - Zane Lee Torrence, 85, passed away at home in Osceola, Indiana with his family by his side February 25, 2021